Every month is another health cause, and April is no exception. April is testicular cancer awareness month. Although testicular cancer is rare and only accounts for 1% of all male cancers, it is still the most common cancer in males from 15-35 years of age. Every hour of every day a man in the United States hears the words "You have testicular cancer." It's overwhelming and life changing.
Approximately 1 out of 250 males in the U.S. will be diagnosed with testicular cancer and there is no associated lifestyle or behavior pattern, which can reduce your risk.
But this is where men can help themselves…Self-examination. For it is men themselves, not doctors, that find the majority of testicular cancers. It is because of this fact that we are in complete disagreement with the USPSTF and their "D" recommendation for testicular self-examination. They are "dead" wrong. If testicular cancer is discovered early it has a nearly 100% survival rate. It is essential we engage males at the young age of 15-35 to be involved, engaged, and advocates for their own health and become keenly aware of what's "normal" and not ever become a statistic. Just imagine, if we can get young men engaged to perform monthly self-examinations, we could likely improve the risk of developing other behavior and lifestyle related illnesses through enhanced awareness and education. Sure, every month breeds another cause or campaign, but this one has sat in the background unnoticed.
So…If you Got Nuts…Check Em!... It might just save your life!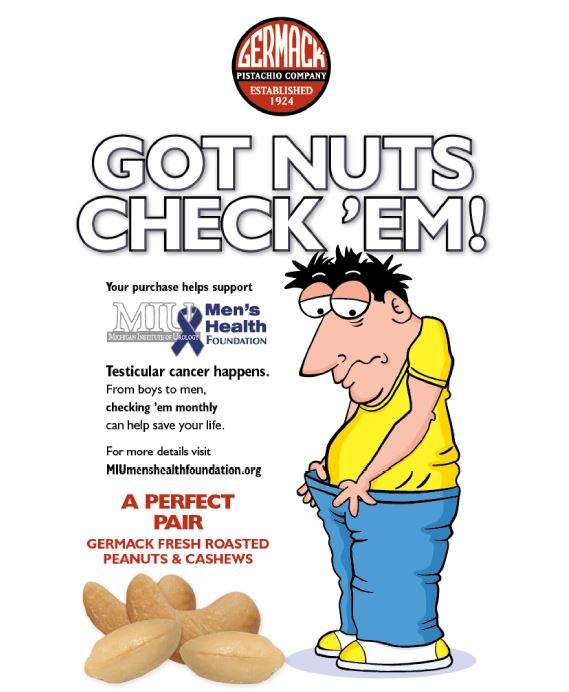 While supplies last, you will be able to purchase the "Perfect Pair" at some of metro Detroit's local retailers such as Plum Market, Westborn Market, Village Market, and others who also believe that this cause is worthy of attention!